Up until a few years ago, I didn't see the need for a proper pair of hiking boots. I hiked and trekked in my trail runners and thought that they were decent enough.

And so I put on my trusty trail runners during my climb up Mount Rinjani, a volcanic mountain in Indonesia. Thanks to the fine volcanic sand, I spent the next couple of days slipping and falling on my butt over and over again. Meanwhile, my friend is her new pair of hiking boots happily plodded along with no issue at all.

Since then, I am a believer. It is worth getting a good pair of hiking boots, and the difference can be felt even on a moderate trail. There are literally hundreds of hiking boots out there but you can never go wrong with the classics.

---
These Are My Top 3 Hiking Boots For Men And Women
Salomon Quest 4D 3 GTX (click to check the price on Amazon for Men's and Women's): This pair of boots have consistently gotten good reviews year after year. These are heavy duty boots that are ideal for people looking to get into more serious treks or climbs. They also work with strap-on crampons for easy winter climbs.
Merrell Moab 2 Mid Waterproof (click to check the price on Amazon for Men's and Women's): This is an extremely reasonably priced pair of boots. It is probably even cheaper than some of the trail runners out there. They are perfect for backpacking holidays — you can wear them every day on the streets and anytime you want to break out of the city for a hike.
Getting a good pair of boots will actually save you money in the long run. I have fallen into the trap of buying boots which were simply cheaper. They were either uncomfortable or worn out very quickly. I ended up spending more money to replace them.

---
What Types Of Boots Do You Need?

Hiking shoes: These usually have a low cut with limited ankle support. They are a bit better than trail runners for short hikes but personally, I wouldn't spend money on these.
Hiking boots: These have a mid to high cut with better ankle support. Perfect for short treks and backpacking trips. Comfortable to be worn on and off the trails.
Heavy duty hiking/ backpacking boots: These have a high cut for excellent ankle support. They are excellent for rougher terrains and longer trails. Better support and protection and the normal hiking boots but tend to be heavier.
Mountaineering boots: These are specialized boots for serious mountaineers dealing with rough terrains, snow and ice. Very tough but takes a long time to break in.
A quick comparison of their differences:
| | | | | |
| --- | --- | --- | --- | --- |
| | Hiking Shoes | Hiking Boots | Heavy Duty Hiking/ Backpacking Boots | Mountaineering Boots |
| Weight | Light | Light | Heavier | Heaviest |
| Height | Low cut | Mid to high cut | High cut | High cut |
| Ankle support | Poor | Good | Excellent | Excellent |
| Sole stiffness | Flexible | Stiffer | Stiff | Stiffest |
| Comfort | Comfortable | Comfortable | Less comfortable | Least comfortable |
| Break in time | Short | Short | Mid | Long |
| Insulation | Uncommon | Uncommon | Uncommon | Common |
| Compatibility with crampons | Unlikely to be compatible | Some might be compatible | Some might be compatible | Compatible |
---
Why I Chose The Salomon Quest 4D 3 GTX For Heavy Duty Hiking Or Backpacking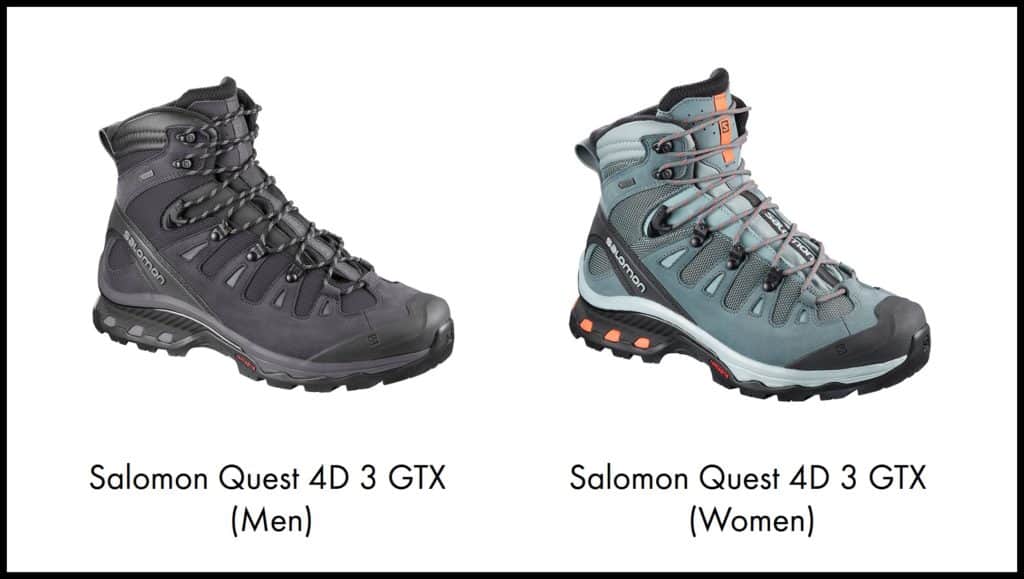 For me, the Salomon Quest 4D 3 GTX is worth every penny if you are a serious hiker or trekker. Or if you just want a versatile pair of boots that can be used for summer and winter climbs.

I knew that the Salomon Quest 4D 3 GTX would be a bit heavier than my other pairs of hiking boots. But I was pleasantly surprised that it didn't feel all that heavy when I put them on.

I used to wonder if there are really any differences between a brand name and a cheaper pair of entry-level boots. And I was surprised to find that the differences can be quite obvious. Design wise, they do look a bit sleeker. And once you put them on, you can feel the sturdiness of Salomon Quest 4D 3 GTX.

They feel dramatically better than entry-level boots. They hardly require any breaking in time. I first wore it out for a day hike and my toes got a little sore at the end. It wasn't much of a problem after that.

The high cut of the boots means that they have exceptional ankle support and protection. I have an old injury on my left ankle but I never once had to worry when I have the Salomon Quest 4D 3 GTX on. I generally dislike going on rocky trails where it's very easy to twist an ankle. But now I barely remember I even have an ankle problem.

The foam cushioning in the boots feels heavenly. The contours around the heel add to the stability and provide even more support for my ankles. The interior padding around the ankles and foot is also comfortable. They don't cause any abrasion.

The soles are rigid enough that you can cross over sharp, jagged rocks with ease. For some hiking boots, you can feel the terrain that you are walking on. Not so with the Salomon Quest 4D 3 GTX. and yet, the soles are not so rigid that your feet feel beaten up at the end of a long day.

The soles also have excellent traction even in wet conditions. I have crossed streams and other wet, mossy surfaces with no problems.

The front of the boots have a rigid rubber cap and you don't have to worry about banging your toes on anything hard.

The Salomon Quest 4D 3 GTX uses Gore-Tex membranes for waterproofing. And you often have to pay a premium for Gore-Tex technology. It is the leading technology in the market. And so far, I did not notice any odor from my boots. I guess they are more breathable than my other boots which tend to stink after a couple of uses. Some people have complained that the Salomon Quest 4D 3 GTX doesn't do well in hot weather. But I found them to be alright.

The Salomon Quest 4D 3 GTX can also be worn with strap-on crampons. You can take them on easy winter climbs or glacier walks without needing to buy or rent any mountaineering boots.
Read more about boot and crampons compatibility here.
For the women's model, i found the Salomon Quest 4D 3 GTX to match my normal shoe size. The price on Amazon was also the same the retail prices at the store.
---
Why I Chose The Merrell Moab 2 For Casual Hiking And Backpacking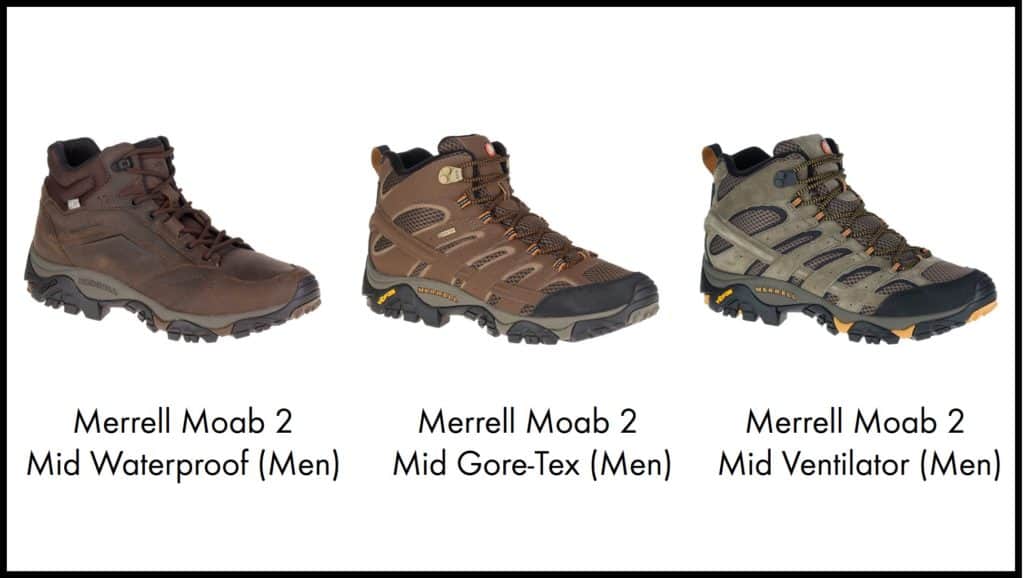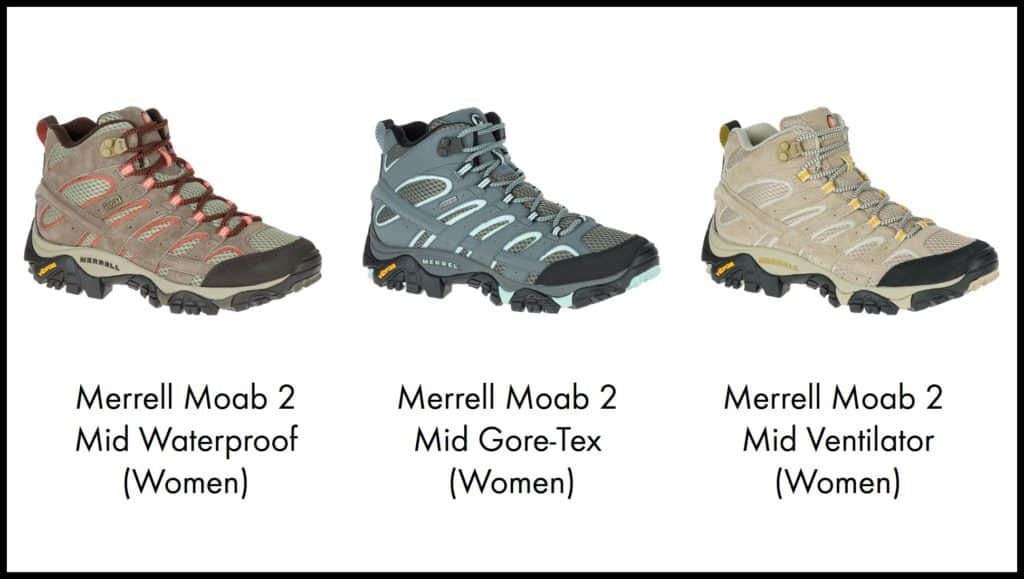 The Salomon Quest 4D 3 GTX is probably not going to be your first pair of boots. If you are just getting started on short day hikes or treks that last 2 to 3 days, the Salomon Quest 4D 3 GTX can be a bit of an overkill.

Before I got the Salomon Quest 4D 3 GTX, the Merrell Moab 2 served me well for years. Even now, I still reach for the Merrell Moab 2 when I'm going for short treks or backpacking holidays. It's lighter than the Salomon Quest 4D 3 GTX. And it's at a sweet spot between a trail runner and a heavy duty hiking boot.

The Merrell Moab 2 feels like a high-end hiking boot but comes with a very reasonable price tag. It is lighter than the Salomon Quest 4D 3 GTX which makes it great for walking all day. The cushioning is excellent and it is also waterproof. For every size, the boots also come in a wider option.

However, the sole feels thinner than the Salomon Quest 4D 3 GTX. When walking over rocky or sharp surfaces, it offers less cushioning than the Salomon Quest 4D 3 GTX. The cut is lower than the Salomon. It's unlikely to be compatible with crampons.

But it is the perfect boot for a beginner trekker or mountain climber. And if waterproofing is not a priority for you, it also has a ventilator model which is more breathable.

The Merrell Moab 2 comes in various options and sizes:
---
How To Get The Right Fit For Your Hiking Boots
When it comes to getting a new pair of hiking boots, no number of reviews online can beat trying out the boots in person. The most important thing is making sure they fit properly and feels comfortable. They are a million brands and styles out there. They all have fancy names and claim to have the latest footwear technology. But if it feels painful or uncomfortable on you, don't buy them!

You might have to try on many different models or brands before you find the right one for you. But it is worth saving yourself the pain down the line.

Here's how to get the perfect fit:

Try your boots on at the end of the day when they are usually a bit bigger.
Try your boots on with the actual socks that you will be wearing. Hiking socks are usually thicker which affects the size of your boots.
The boots should feel snug but not tight. You should be able to wiggle your toes. They should not be bunched up together. The boots should not be pinching along the width of your foot. They should not be pressing tightly on the balls of your ankles.
Walk around in your boots. Go up and down slopes or stairs. Squat and hop around. Make sure you can move about easily without any pain. Make sure you have flexibility in your ankle which is important when you are doing up and down slopes.
Spend some time breaking in your boots. Spend at least 2 to 3 days in them before taking them out for a trip.
---
Waterproofing And Breathability Of Hiking Boots

A common complaint about hiking boots is usually its waterproofing and breathability.

And despite claims by every hiking boots brand out there, you can't get the best of both worlds. If something is watertight, airflow is probably going to be negligible. If your boots breath well, then water is likely to enter as well.

So depending on your needs, pick a pair of boots that's waterproof OR breathable (i.e. not marketed as waterproof). Breathable boots usually also dry out a lot quicker than waterprrof boots when they get wet.

And sometimes, there are other reasons why your waterproof boots are getting wet. Since these boots are less breathable, your feet might sweat more. The sweat from your legs might also be seeping into the boots. Rain or water might also get in from the top opening of your boots.

To prevent these issues, make sure you have plenty of clean dry socks to change into every day. Make sure the top of your boots are covered with your pants or gaiters when it rains or when crossing streams.

When they get wet, unlaced the boots completely and open them up to dry overnight.

---
Maintaining & Getting The Most Out Of Your Hiking Boots
Hiking boots can easily last for years if you take good care of them. Generally, hiking boots can last about 1,000 miles (1,600 km).

Here are some ways to squeeze out more time in time:

Clean them and dry them out properly after each use. Keeping them wet will weaken the boots. It will also be a nightmare trying to get the stink out the next time you want to wear them.
Do not leave them in the sun for days either. This will likely damage the material of the boots.