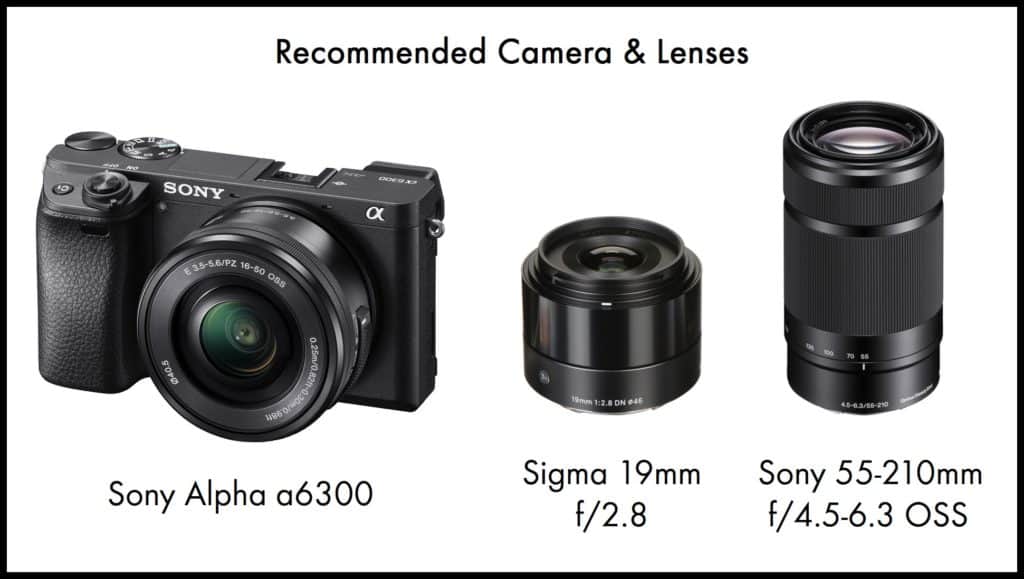 Sometimes the pictures taken on your phone just don't seem to do justice to the amazing views you see on hiking or climbing adventures. Interested to level up your photography game? Here are some things to look out when choosing the right camera for you.

In the past, the DSLR is the default choice for people looking to get into more serious photography. Today, the mirrorless cameras are giving the DSLRs a run for their money. After using a DSLR for years, I decided to swap over to a mirrorless.

After considering a dozen cameras, I decided to get the Sony Alpha a6300 (click here to check the price on Amazon). And I have been really happy with my decision. It is the perfect balance of price and quality. Because it is easy to carry around, I have been using it a lot more than I ever did with my DSLR. and like the saying goes, the best camera is the one that's with you!
---
What Types Of Camera Do You Need?

There are 3 main types of cameras you can consider: point and shoots, mirrorless and DSLRs.

Personally, the cameras on our phones have developed so much over the years that I hardly see a point (pun!) for a point and shoot camera. Even on the trails, I hardly see people using point-and-shoots. They might be able to give you slightly sharper images than your phones. But it doesn't really justify carrying an extra piece of gear.

A couple of years back, it would have been quite common to upgrade to a DSLR. A DSLR gives you so much more control over the images you take. And they come with a wide range of lens options. From wide angle shots to macros, or even just zooming in to something miles and miles away, the DSLR would have a lens for the job.

But unfortunately, life isn't perfect. A DSLR is a lot bulkier than a point-and-shoot. Too many times I find myself choosing to leave the DSLR at home just so I don't have to deal with a huge backpack. And what's the point of having a kick-ass camera that sits at home all day right?

And here comes the mirrorless. The body is less bulky than a DSLR — at least about a third smaller. However, if you use additional lenses, both will turn out to be equally bulky.

Increasingly, the mirrorless' capability also rivals that of a DSLR. The only big difference is that many mirrorlesses do not have an optical viewfinder. Like point-and-shoots, you can only see the view on an LCD screen as you are taking your pictures. An LCD screen gives you a more accurate image of what your camera will be capturing. But it's sometimes quite hard to see in bright light. You can also find mirrorless with optical viewfinders but they usually cost more.
Overall, the price difference between a mirrorless and a DSLR is also getting smaller over the years. For now, for the same price, you can get a better mid-range DSLR than a mirrorless. On the high-end range, the prices are comparable.
Here's a quick comparison of the 3 camera types:



Point and shoot cameras
Mirrorless cameras
DSLR cameras
Size
Compact
Compact (without lenses)
Bulky
Weight
Lightest
Heavier than point and shoot cameras
Heaviest
Additional lenses
None
Fewer ranges available compared to DSLRs
Wide range available
Megapixels
Typically 12 to 20 megapixels
– Typically 16 to 26 megapixels
– High-end range can go up to 42 megapixels
– Typically 24 megapixels
– High-end range can go up to 50 megapixels
Viewfinder
LCD screens
– Typically LCD screens.
– Optical viewfinder available for costlier models
Optical viewfinder
Continuous shots
Typically 2 to 3 frames per second
– Typically 10 frames per second
– Can go up to 20 frames per second
– Typically 3 to 5 frames per second
– Can go up to 14 frames per second
Videos
Entry-level cameras typically shoot in HD
4K video is common even for entry-level cameras
Entry-level cameras typically shoot in HD or Full HD
Manual controls
No
Full control
Full control
Battery life
Typically 300 to 400 shots
Typically 300 to 400 shots
Typically 600 to 800 shots
Price
– Mid-range: $300 — $500
– High-end: $800 — $900
– Mid-range: $300 — $800
– High-end: $2,000++
– Mid-range: $400 — $800
– High-end: $3,000++
---
Why I Chose Sony Alpha a6300

The Sony Alpha a6300 is weather sealed. This is a big plus for any outdoor photography since weather can change in an instant.
The Alpha a6300 has an APS-C image sensor. A camera's sensor affects the quality of your pictures more than the megapixel size. APS-C image sensors perform just as well as full-frame sensors which are the best in the market.
The a6300 has an improved focus system which allows you to focus on a moving object in 0.05 seconds. This is extremely useful when taking wildlife photography.
The a6300 has an enhanced image processor. This allows you to capture sharper images with less noise even at higher exposures. This gives you great images at low light such as the early mornings and late evening shots.
It can shoot 4K videos.
The battery life is pretty decent for a mirrorless. It is shorter than a DSLR but I usually bring plenty of spares anyway.
The size and weight also make it easy to just hang the camera around my neck and hook it onto my backpack.
I just love how it feels when I'm holding it. Don't you just love how a camera feels as opposed to a phone? Or maybe it is just me. And it's just so much more nimble and lighter than a DSLR.
The Sony Alpha a6300 is extremely value for money.
But if you would like a budget option, there is the Sony Alpha a6000. Because it is an older model, it is about 30% cheaper than the a6300. One significant downgrade will be the lack of weather sealing. This is usually a good feature to have for outdoor photography

And if don't mind spending a bit more for the top of the range there is the Sony Alpha a6500. The a6500 is about 30% pricier than the a6300. For that, the key difference in the a6500 is the enhanced image stabilization. When shooting in low light with slow shutter speed, the a6500 can reduce shaking can image blur. Handheld videos also appear less shaky. If you take a lot of videos, this may be worth the upgrade.

A comparison of the various Sony Alpha models:
Appearance-wise, they don't look at that different.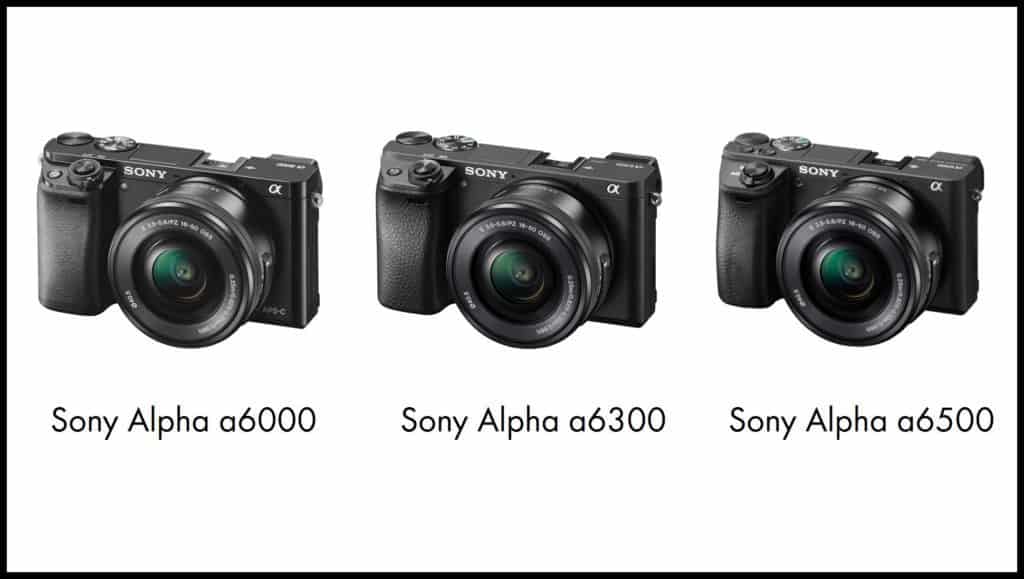 a6000
a6300
a6500
Size
4.72 x 2.63 x 1.78 in
12 x 6.7 x 4.5 cm

4.72 x 2.63 x 1.92 in
12 x 6.7 x 4.9 cm

4.75 x 2.75 x 2.13 in
12.1 x 7 x 5.4 cm
Weight
12.2 oz
346 g
14.3 oz
405 g
16 oz
454 g
Megapixels
24.2
24.3
24.3
Sensor size
23.5 mm x 15.6 mm
23.5 mm x 15.6 mm
23.5 mm x 15.6 mm
Water resistance
No
Yes
Yes
Highest video resolution
HD
4K
4K
ISO range
100 to 25600
100 to 51200
100 to 51200
Standard lens
16 — 50 mm
16 — 50 mm
16 — 50 mm
Image stabilization
2-axis with support lenses
2-axis with support lenses
5-axis in body
Battery life
360 shots
350 shots
310 shots
Price
Check the current price on Amazon
Check the current price on Amazon
Check the current price on Amazon
---
Additional Lenses

The capabilities of both mirrorless and DSLR cameras are quite limited if you stick to the standard lens that comes with the camera. For outdoor photography, I like to have 2 extra lenses. A wide-angle lens helps to take gorgeous landscape shots. And a telephoto lens is super useful to get close up shots of wildlife.
But it's crazy how some lens can cost as much or even more than the camera itself!

For me, price is an important consideration and these are the best value I found in the market:
Telephoto lens: Sony 55-210mm f/4.5-6.3 OSS (click here to check the latest price on Amazon)

The Sony 55-210mm has the farthest reach (315mm) among all Sony telephoto lenses. Most telephoto lenses are heavy but the Sony 55-210mm is comparatively light. The lens struggle with low light but for its price, I have no complaints.
Weight: 12.2 oz (346 g)
You can also buy this lens as a bundle:
---
Photography Ideas And Inspirations

The possibilities for an interesting shot in the mountains are endless. Check out these 40 ideas for more creative landscape and portrait shots.

If you are new to photography, learn these basic tips and hacks to instantly improve your shots.